I love fall and all that comes with it from fall produce, flowers, colors of the trees, crisp and cooler days, holidays and so much more. Unfortunately it can also be the time when some of us start easing up on our fitness regime, eating healthy and taking better care of ourselves as we trade our bikini's and sun dresses for more comfy loser fitting warm clothing.
Summer is all about vacation, fun in the sun, outdoor living, lighter meals, fresh fruit and salads. while it can be hard to say goodbye to summer's glory, fall can be a great opportunity to recommit and reflect on creating balance, health and wellness to take you through the cooler month ahead. Here are a few tips to help you transition from summer to fall. (Psst…….look below for my favorite fall recipe right now).
Seasonal Food 
If you live in a cooler climate most likely you not only starting to dress differently, but you are also making changes in the kitchen with your meals and what you eat. Just like summer produce, falls produce selection is filled with nourishing and vitamin packed fruits and vegetables. Right now indulge in apples, beets, eggplant, cranberries, pomegranates, pears, figs, Brussel sprouts,  mushrooms, squash, pumpkins, sweet potatoes, dark leave greens, beans, nuts and seeds. These all taste best right now by offering the highest nutritional value. Check your local market for the latest fall arrivals.
Refuel with warm nutrient tense meals
Our bodies are naturally inclined to put on a few pounds during the colder month to get us through long cold winters. But you can prepare yourself for this without expanding your waistline by paying close attention to the signals your brain and stomach send you. Eat slow, mindful and without distractions. Stews, soups and sautéed vegetables are a great way to give your body the nourishing, warm comfort food it desires right now. The key is to stay away from sauces and creams loaded with unnecessary calories.
Get moving early
As the days grow shorter you want to fit in your daily exercise first thing in the morning. For most of us working we forget how early daylight fades during these month and the last thing we want to do is go for a run in the dark on a cold and wet night. Soak in the days sunlight as much as you can now and boost your Vitamin D levels naturally avoiding the seasonal blues.
Should you feel the need for support transitioning this fall or are ready to pause, reflect and recommit feel free to reach out.
Enjoy this delicious recipe of my favorite Mushroom Ragout this fall.
Mushroom Ragout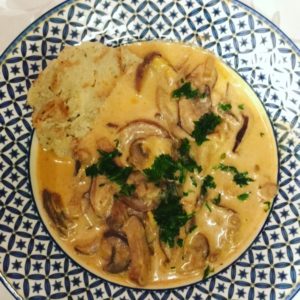 2 pd. of  cleaned and sliced mushrooms (any combination, your favorite)
1 med yellow onion diced
1-2 tbs. oil
1 tbs. paprika
1/2 tsp. ground caraway seeds
3 1/2 cups of vegetable broth
2 tbs. flour
8 oz of non dairy sour cream or substitute
salt & pepper to taste
2-3 tbs. fresh  chopped parsley
Heat oil over med. heat and fry onions until soft and lightly browned.
Add mushrooms and cook until liquids have evaporated.
Add paprika and stir well. Add broth and ground caraway seeds, stir, add lid and simmer on low heat for 45-60min. Stir occasionally.
In a bowl mix sour cream substitute with flour and slowly stir into mushroom ragout until well blended. Season with salt and pepper. Remove from heat, sprinkle with chopped parsley and serve.
br> br> br> br>